As most of our friends and acquaintances know, this trip has been nearly 3 years in the making. We started planning back in 2019. It started as an opportunity for Jen to travel to the UK office of her employer, which we would turn into a 15th wedding anniversary trip to England, Wales, Scotland, and France. As we all know, Covid interfered with those plans (thankfully with just canceled flights and reservations and nothing more serious), but that gave us the opportunity to really look at places to go and things to see. Our 3 week multi-country adventure turned into a planned 4 week British trip of a lifetime, with our focus on the country of Scotland. Starting in November 2021 we solidified our plans, booking and prepaying for our flights to and from the UK, AirB&B's or other "self catering" places to stay, various planned activities, and the dreaded rental car.
When we originally booked this trip, Air Canada was flying out of CVG about daily. Well, Covid made that difficult so they canceled their Cincinnati to Toronto flights until May. Outbound became Cincinnati to Chicago, then Chicago to Toronto before the final leg of Toronto to London Heathrow. Jen and I are simply not used to that kind of travel – most I've ever flown was to California, and that's only about 4 hours. The longest leg (YYZ to LHR) is a shade over 7 hours. But the excitement of this adventure required this fun air trek to get there – and eventually back.

Since our trip was canceled once, the possibility of things getting canceled again was always on our mind. Indeed, when Putin invaded the Ukraine on 24 February 2022, we were sure this would be the next reason for cancelation. But as time moved forward and our departure seamed more and more assured, our excitement had climbed to quite a high level. So you can certainly now appreciate what happened when we arrived at CVG 3 hours before our scheduled departure and walked up to the United counter to drop off our checked bag and collect our boarding passes

When entering in our information to the self service kiosk, we received an error message. So one of the customer service agents took our passports and reservation information and tried to process it herself. After 3 attempts you could see in her wide eyes and the turn down corners of her mouth that something wasn't right. Was this the hiccup that would cause our plans to fall apart? She had to call United's help desk (apparently same number as a typical customer – isn't that nice), wait on hold, then work with them for a bit. Despite our obvious concern, we made small talk with her and a couple other agents trying to keep the situation light. The rep who was working with United customer service was finley assured that everything was ready, so she hung up the phone and processed the reservations again. And again, her requests were denied. Her exasperation and now our concern was building. At that point, one of the other agents looked up our information, grabbed our passports, and started feverishly typing into their system. Finely, boarding passes started shooting out of the printer. Our bag was checked, and we were finally on our way to the gate with an hour to spare before boarding.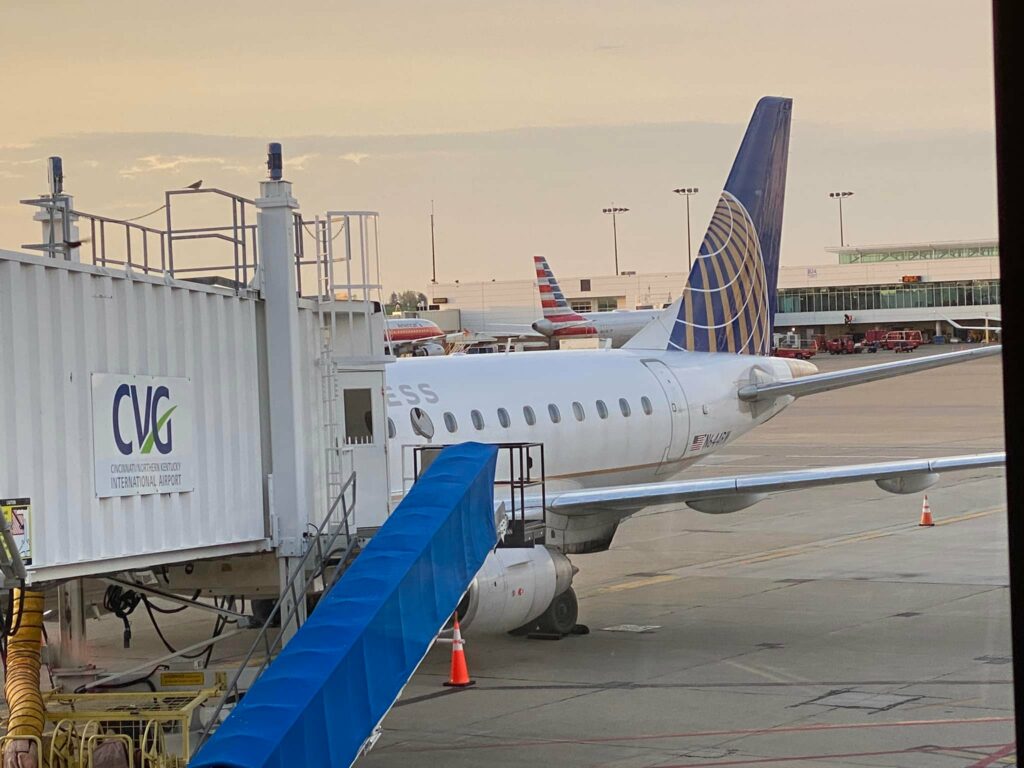 I'll be the first to admit, I'm typically a nervous flyer. But today my only concern was to navigate the various airport terminals to make sure we made each flight. Boarding was effortless and our first flight left on time and on schedule. While I expected it to be a bit of a bumpy flight due to a storm front sliding across Indiana, the captain skilfully weaved his way through the airspace and smoothly landed us into Chicago a full 20 minutes ahead of schedule. Leg one complete!
In Chicago, we had to change terminals to meet our Air Canada flight from ORD to YYZ. Chicago O'Hare Airport is a sprawling mass of terminals. Thankfully we only had to walk from Terminal 2 to Terminal 1, and we made our way through the throngs of people navigating to their own gates and destinations unknown. We found a place to grab some lunch, then off to our gate to await our flight to Toronto.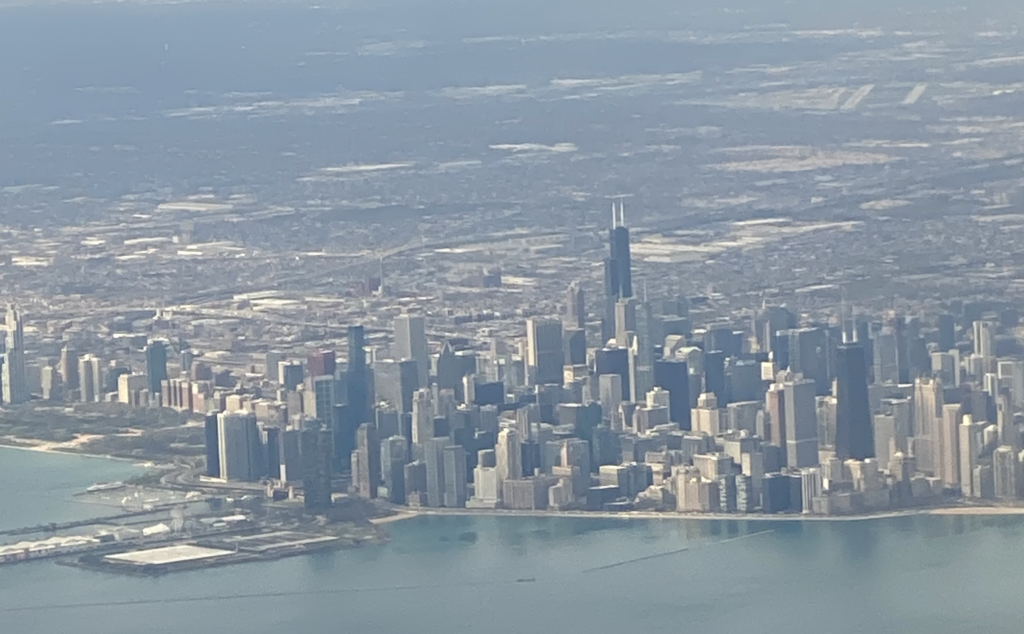 While waiting, we were a bit worried that the problems we had with our boarding passes from Cincinnati might also be an issue with Air Canada. So when there was an opportunity, I walked up to the Air Canada customer service agents and expressed our concern. At that point, the agent wanted to see my passport and vaccination cards. Then she asked my about the UK Passenger Locator form. Well, I didn't have one since the UK had removed ALL restrictions related to Covid back on 18 March of 2022. Apparently her computer system did not reflect his, but after a quick bit of research on her part she confirmed the same, then provided new boarding passes to both of us for the next to legs of our flight.
Finally settled we waited for our plane to arrive, and just as it did we received another alert. Our seat numbers had changed. I walked up to the gate agent and inquired as to what this meant. After looking up our reservations he responded, "well, congratulations. It appears you were bumped to first class!" Well, thank you very much!
First class meant complimentary drinks and a snack. That snack was smoked salmon, potato salad and leafy greens. Ok, so it was an 75 minute flight to Toronto, but it was cool to be up in the front of the plane. Yea us!
This flight was a little rougher, as we had to fly over the storm that we missed while flying into Chicago. But up and over the clouds we went and landed on time. We now had 2 hours to change terminals and grab our final flight to the UK. Our walk took us through a special section of Toronto Pearson set aside for passengers making international connecting flights.
Now in the International departure building, we sat back for a few and had an adult beverage before boarding. We were also afforded the opportunity to check our carry on bags as our flight was quite full. We eventually made our way down the jetway and into a beautiful Boeing 777-300ER – Air Canada's flagship aircraft. And within 10 minutes of our scheduled departure time the plane was pushed back, engines started, and we were off to London Heathrow!