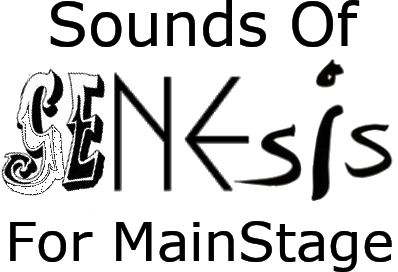 Genesis is without question one of the most iconic progressive rock bands ever, and certainly one of the longest lasting. And Tony Banks is without question a master of songs and sounds that have pushed Genesis through over 4 decades of recording and touring. This MainStage concert contains all of the sounds required to faithfully reproduce 21 of Genesis' most memorable tracks, playable on a single keyboard with a few controls that can be mapped to MainStage. And not just keyboard sounds, but the sounds of their drum machines and patterns as well.
Patches for 21 great Genesis songs
Over 85 custom programmed sounds
2 sampled instruments
Drum machine sounds and patterns
Simply load and play!
All sounds use the stock MainStage instruments, so nothing else is required. Included with this sound set is a sampled Electric Grand Piano – a staple of Tony's musical arsonal.
Songs covered in this MainStage concert:
Abacab
Afterglow
Behind The Lines
Carpet Crawlers
Dance On A Volcano
Dodo
Duchess
Fading Lights
Firth Of Fifth
Follow You Follow Me
Home By The Sea (Parts 1 AND 2)
In The Cage
In Too Deep
Invisible Touch
Land Of Confusion
Mama
Man On The Corner
The Cinema Show
Tonight Tonight Tonight
Turn It On Again
Watcher Of The Skies
Check out this video for a taste of these awesome sounds:
This sound set was programmed using MainStage version 3.4.4 – will need that version or higher to open this sound set.